Certain Women: An Art Show You Must See!
Yesterday I had the privilege of seeing the art show "Certain Women," which is being held in downtown Salt Lake City and which ends on 13 November. You really must see it. It is amazing! If you are unable to see it in person, click on the "Gallery" tab of their website, and you can scroll through photos of (most of) the artworks.
Each of the artists is a woman, and the purpose of the show was to show the female perspective on the divine feminine. There were ceramic sculptures, paintings, paper cuttings, fabric art, photography, even our Mother's chair! While the photos on the website's Gallery link are fabulous, what the website doesn't show is the artists' explanations of each piece. Those explanations were equally fascinating! The very titles of the pieces were also illuminating.
For example, one of the largest paintings in the show is a new work by Rose Datoc Dall, whose art I just love. The very large circular piece was entitled, "The Veil Over the Earth is Beginning to Burst," and it shows Heavenly Mother and Heavenly Father by a diaphanous curtain which is being opened to reveal Them. My poor photo does not do the majesty of the piece any justice at all . . .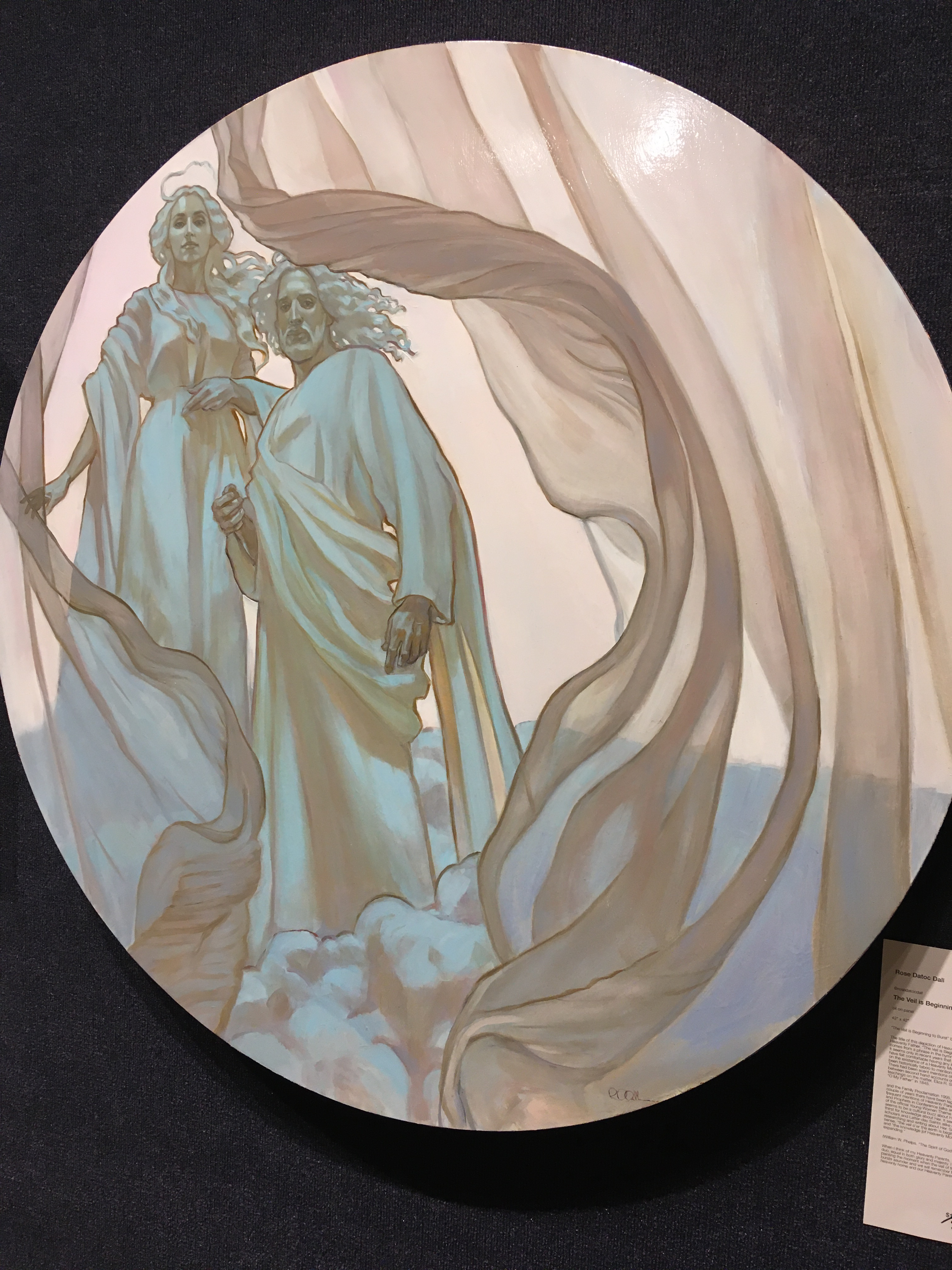 As I walked around the rooms of the exhibit, I felt like I was bathing in a warm, clear sea. Thoughts that had come to me before were made real before my eyes--like meeting a cyberspace friend in the flesh, it was an occasion filled with joy! And then there were thoughts I had never had before, which filled me with wonder! One of my favorite new friends was a piece called "Hannah's Coat" all done in turquiose mosaic. One small verse in the Old Testament tells how Hannah, once barren but given a son after she promised to give him to the Lord, was separated from her child, who was probably somewhere between 3 and 5 years of age at the time. Can you imagine surrendering your child to strangers at such a tender age? The small verse says she visited him every year and made him a new little coat to bring him each time. Can you imagine the love and the yearning that went into those little coats? The artist did. We women find ourselves in tiny little details in those big books of scripture that say so very little about us, our lives, and our feelings.
Listen, if you live within driving distance of Salt Lake City--and I would extend that out to a six hour radius surrounding that city--you really must see this show. It will open your eyes and your mind and your heart to your Heavenly Mother, hiding, as it were, in plain sight. You will have confirmed to your soul things you know to be true. You will be changed by this show. I know I was!